Our Staff
Experienced, Large Animal Veterinarian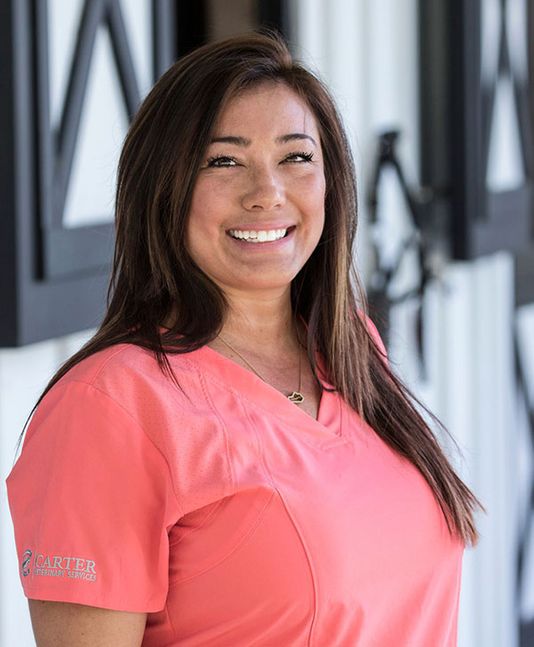 Meet Amanda - Practice Manager:
Amanda comes to us all the way from Texas by way of Kentucky. She has a Bachelor's Degree in Business from the University of Kentucky, Gatton College of Business. Don't worry, she still bleeds blue! Living in the horse capital of the world made working in the industry easy and off to Rood and Riddle Equine Hospital she went. Starting out as a nursing technician supervisor for 5 years she thought she wanted to become a veterinarian. It was then she realized office life suited her better and spent the next 10 years as an administrative assistant for two surgeons and two Associate Veterinarians. After a brief stint at the Rood and Riddle Veterinary Pharmacy, where she earned her pharmacy technician license, she flew the coup and came to Carter Veterinary Services as the Practice Manager in 2019. In her free time, she indulges in her life's passion and teaches tumbling and all-star cheerleading at a local gym. You might also find her biking or kayaking.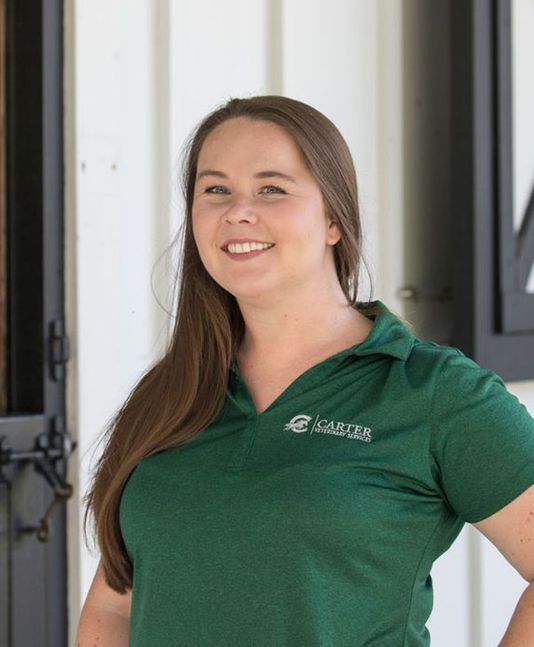 Meet Aubrey - Office Manager:
Originally from Summerville, SC Aubrey joined the CVS team in 2015. Chances are you have likely spoken on the phone with her, as she manages the office full-time. Her compassion for animals is unmatched. Aubrey grew up in Pony Club and evented her OTTB, Grace in high school. She was the Captain of the Lander Equestrian Team throughout college. Aubrey and her partner Chad along with their dog Cooper, and three cats, live in Bluffton. Most evenings and weekends you will find her and Cooper spending time with her two mares, Grace & Lily.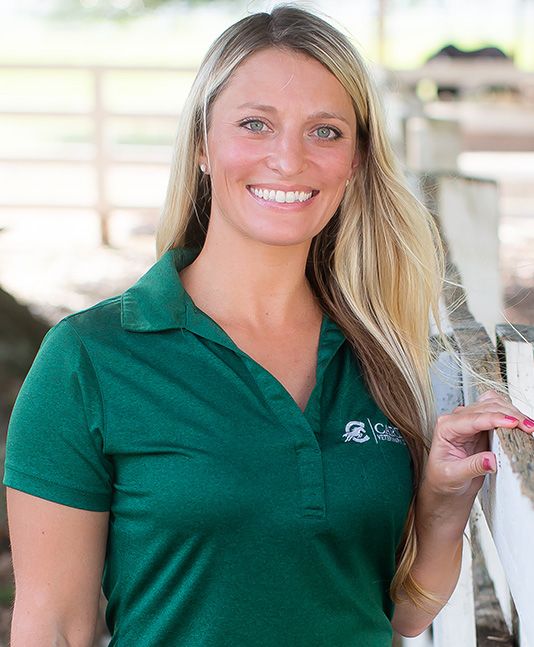 Meet Amy - Veterinary Assistant:
Amy joined the Carter Veterinary team in 2018 as a veterinary technician after working as a barn manager for several years. Amy started riding horses at the age of 5. In college, she continued to ride and competed on the Georgia Southern equestrian team. Amy currently enjoys spending time with her dog Luke and riding her OTTB mare, Bailey. Amy loves working with all the animals she meets, big and small.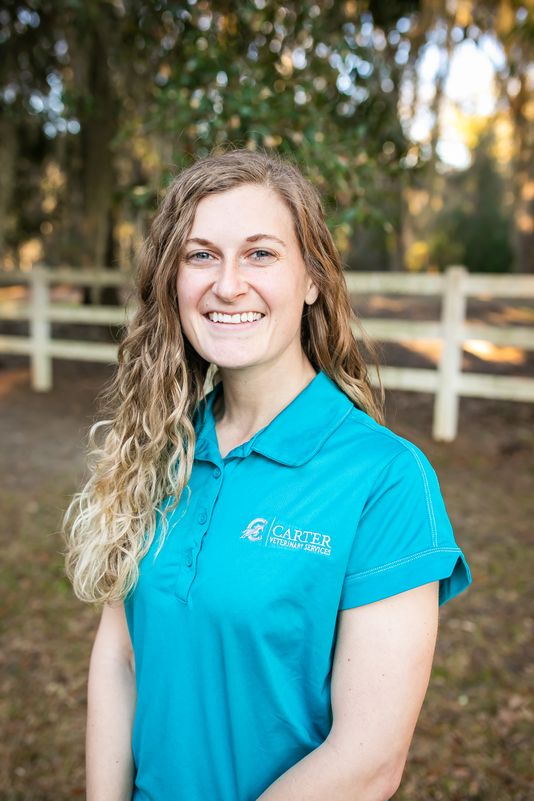 Meet Katie - Veterinary Assistant:
Katie was born and raised in Savannah. She began riding horses at the age of 8 and competed in Hunter Jumper shows for a few years. She has had a passion for working with animals most of her life and attended Georgia Southern to obtain a bachelor's degree in Biology. In her free time, Katie is either spending time with her family and pets, or out on the trails with her horses.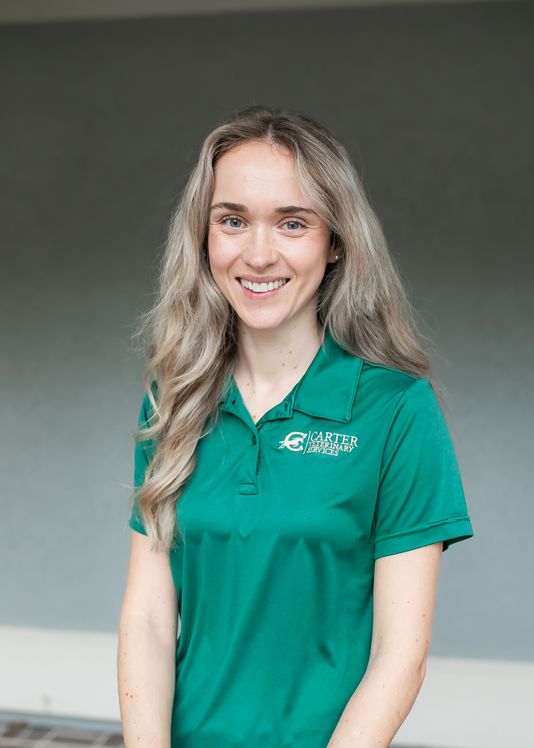 Meet Carina - Veterinary Assistant:
Hi my name is Carina Freeman and I was born and raised in Ansbach Germany. I moved to the United States in 2014 where I joined the U.S Army and served for 4 years. I am currently in my last semester at Georgia Southern University in my journey to becoming a veterinarian. I was only 3 years old the first time I sat on a horse and have been riding most of my life as a hobby and competitively. I am a proud cat mom to Schwabbel and Cheppers and happily married to my husband Kevin. In our free time we love to travel, kayak and hike. There isn't an animal in this world that doesn't have a place in my heart and I feel truly happy when I can help those that are in need.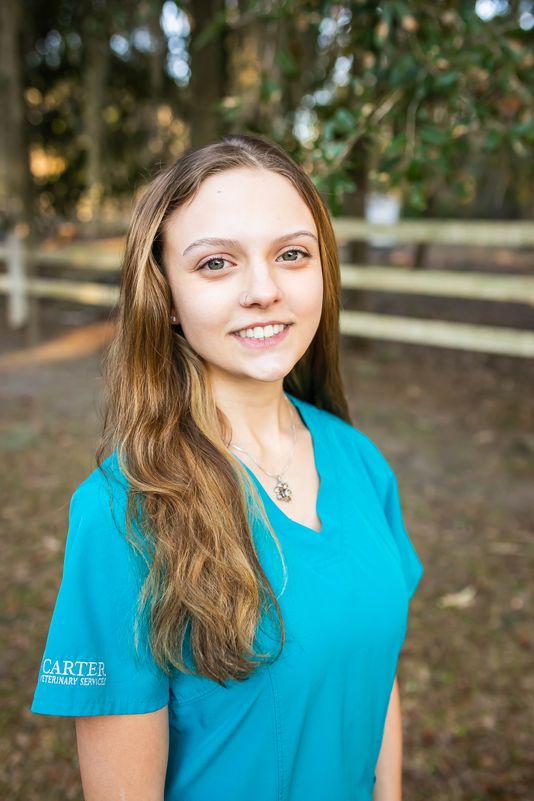 Meet Madison - Veterinary Assistant:
Madison (Madi) Wooley is from Savannah Georgia and has had a passion for horses and animals since childhood. Currently attending Georgia Southern University, she plans to transfer to Ogeechee Technical College in the Fall and complete her Associates of Applied Science and Vet Tech degree. Her goal is to one day become a large animal vet. She has been riding and caring for horses in all aspects since the age of 6, she has trained and won multiple placements for English hunter/jumper riding. When not at the office or a barn she enjoys spending time with her boyfriend and their dogs "Hank" and "Jolene".
Reach Out For An Appointment